Hi,
I would like to style the active line number.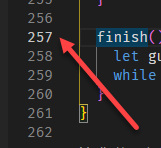 To do so, I forked @codemirror/gutter and modified 'lineNumberGutter' and 'NumberMarker' to add a new elementClass ('cm-activeLineNumber') to the GutterMarker when 'number' match the active line number.
Is there any other way to do that ?
I would prefer to work on top of @codemirror/gutter so I don't have to maintain my own version of it.
Many thanks,
Romain