Please ignore: This was caused by a browser extension.
There is some magic going on when setting the color CSS property for gutter. Whatever I set the property to, and no matter what classes I use (.cm-gutters, .cm-gutters .cm-gutter .cm-gutterElement) the color gets always overridden. When I set it to "red", the gutter does end up with an off-red color. But what I want to achieve, a lower contrast darker gutter, seems to be impossible.
Example of what I want to achieve: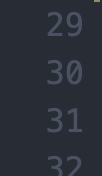 Let me know if I should provide a better repro. I'm on EditorView 0.18.9.
EditorView.theme(
  {
    ".cm-gutters": {
      color: "#444",
    },
)