I want to check if the cursor is inside a comment. So instead of doing it myself using complex regular expression or parsing I thought let's use the built-in syntax highlighting but when using:
editor.getTokenTypeAt(editor.getCursor())==="comment"
in the red area's it gives null or undefined. For all other cursor positions inside the block comment it returns "comment".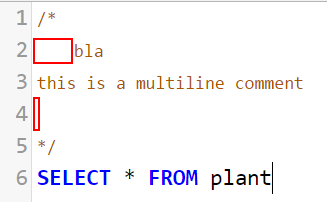 Also using getTokenAt doesn't work. See my (by myself unfairly?) closed issue https://github.com/codemirror/CodeMirror/issues/4755
What am I doing wrong? Is there some other easy way to check if inside comment?