Hello, I'm currently working on implementing a theme into CodeMirror 6. For context, I'm using @codemirror/lang-markdown and then I'm using @codemirror/language-data to autoload languages when detected in markdown.
I noticed that many languages look great. However, legacy languages (such as lua in my example) interpret just about every Tag as name (except for keywords). Thus, almost everything is red (or purple). You can see similar behavior with other legacy languages such as Go.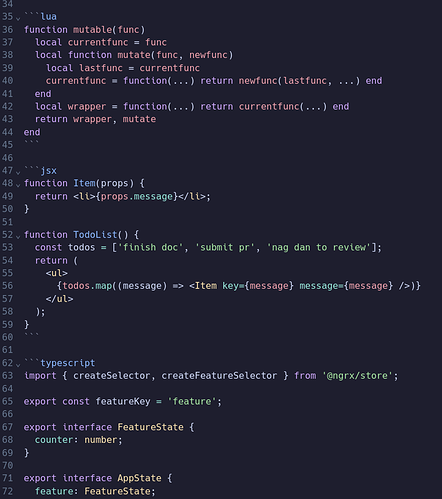 Small clarification. "Legacy Languages", when I look at the source for language-data some languages are being imported via @codemirror/legacy-modes/mode/ – These seem to be the languages (AFAIK) that are interpreting most Tags as name.
Just curious if there's anything I can do here on my end or if I'm overlooking something? Thanks!