Steps to reproduce:
Go to : CodeMirror: Markdown mode
Paste in the following:
**foo ** bar
baz

reference

Note that it is formatted as the following: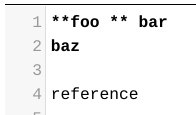 Which is not the expected result. Why are bar and baz bolded?
I've been told foo shouldn't be bolded either, and referenced to this demo.
I originally reported the bug here, but it appears to be a problem with this software (CodeMiror), not that one (Joplin), since you can even see it in the web-demo.