Hello!
I'm working on a math editor that supports RTL languages, and am facing a bidi-related problem which I'm not sure how to solve:
The editor's general text direction is RTL, but I'd like the math segments to have LTR direction (as it's written). However, CodeMirror treat the math text as any other text:


(text between the dollar signs is treated as math; as you can see there's some syntax highlighting for it, but I don't think this affects the behavior)
Setting unicode-bidi: bidi-override corrects the displayed text, but the cursor jitters oddly:


selection and editing also behaves oddly at parts. For example, when I try to select all text in the first math segment it ends up this way:


looking at the line's bidiSpans(), it seems the editor is "RTL greedy" here, in the sense that it tags any text segment that's not clearly LTR as RTL (which explains the above behavior, I think):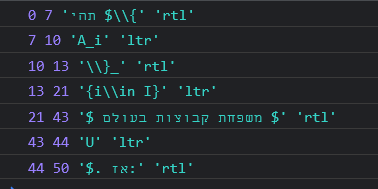 To be clear, these logs show the from and to of each bidi span, the value at that range and the span's direction.
I'd like to be able to tell the editor to treat these segments as pure LTR text, but have not been able to find much relevant information in the docs or here in the forum. How can I go about it?
As an aside, CodeMirror is a wonder, and I really appreciate all the hard work that you've put into it.
Thanks!